The Story of How I Entered a Vicious Cycle of Burnout and Why I'm Pivoting My Business
I haven't really shown up with my own voice for what feels like an eternity. I've sent emails, written sales pages, and posted on social media… but it hasn't really been me.
Today I am going to share a story about making a big pivot in my business. It is raw and honest. My hope is that by sharing it with you, it will not only open the door for a more personal relationship, but that you'll also learn from my mistakes.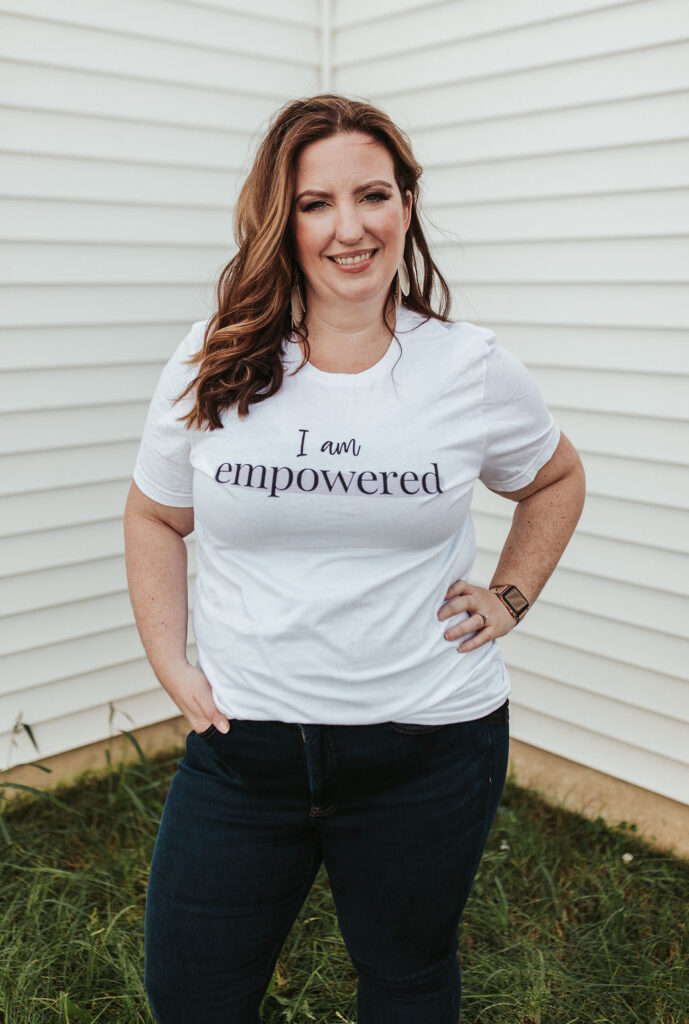 How I Accidentally Created a Non-Scalable Business
Last August, I hired my first full-time employee, Hayley. It was probably the single best thing I've done in my business to date.
I hired Hayley because I was drowning.
People always see the glamorous side of online business and never really the pitfalls and last year I felt like I was in a minefield.
My signature course on Pinterest advertising, Pin Practical Promotions, was producing hundreds of thousands of dollars in revenue. It was doing so well, that I couldn't keep up with both selling it, updating it, and fulfilling support obligations. The amount of exhaustion and burnout I was facing was unreal, yet I had to keep pressing forward for the business.
Many things in my business took a backseat to keep the boat afloat. Including my smaller digital product sales funnels which required a heck of a lot less time and energy and were ultimately more profitable. Here's an idea of what I mean…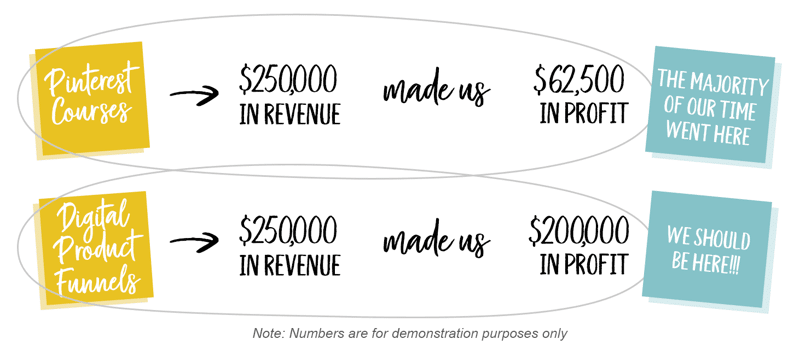 After I hired Hayley, it seemed like things were starting to calm down and open me up again to do more creative things (as every entrepreneur likes to do).
Except, that feeling was short-lived.
Because there's a big problem no one really talks about… profitability.
A Lesson in Profitability
In 2019, my business was super profitable. I was taking home more money both in payroll and profit (after expenses, payroll, and taxes) from the business than I had ever made before in my life. Truly beyond my wildest dreams.
I was also burning the candle at both ends and had zero support. Which means it wasn't a scalable business.
Bringing on Hayley freed me up from working more than I should, but it didn't solve the bigger issue in my business:
Every month, we started off with $0 in revenue.
And here is where I tell you about the beast I created that was never satiated.
As my revenue grew, so did my expenses.
Expenses became fixed, guaranteed every single month, but my revenue was not.
In order for me to continue making the same dollar amount month after month, I had to be actively selling almost all the time.
This wouldn't have been the case if I had stuck with my focus on digital product funnels. But instead, I put my focus on a program that required a lot of ME to make it work.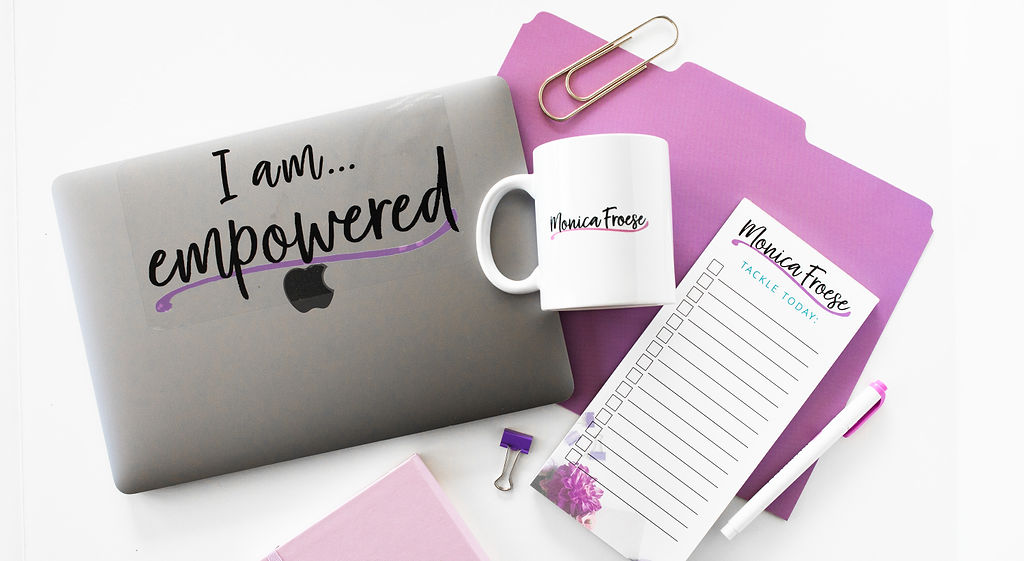 The Problem With Creating a Course Based Off Someone Else's Business
My signature program is about Pinterest, a platform that changes all the time and I have no control over it. Coupled with the fact advertising is a complicated topic that requires a ton of support for my students and it became a non-scalable solution really fast.
Coming into 2020, I had a support Facebook group that went with the course that some students had been in for over three years, yet had only paid me once (three years ago). I was still providing very technical ongoing supporting to these students not only in the Facebook group and monthly live calls, but also through continuous program updates.
Here's where it got complicated. The support group was costing me money every single month both in time and resources. In order to keep supporting current students that were not paying me any additional money, I had to keep selling at the same time.
I entered this vicious cycle of launching, course updating, and supporting, which resulted in a cycle of burnout.
At some point, it became clear that the cost of constant updates and ongoing support was actually costing us more than what the launches were worth. The launches were still profitable on paper, but not worth the amount of time that it was taking from me.
I made the difficult decision to turn the support group into a paid support group.
I wish I could tell you that this fixed things, but it didn't.
The support group was not going to make enough money to support the expenses that had started to pile up over the previous 18 months.
I was back to facing the reality of what I knew an entire year prior:
The only way to build a scalable business is with recurring revenue.
Guaranteed revenue to support the fixed expenses. Every single month.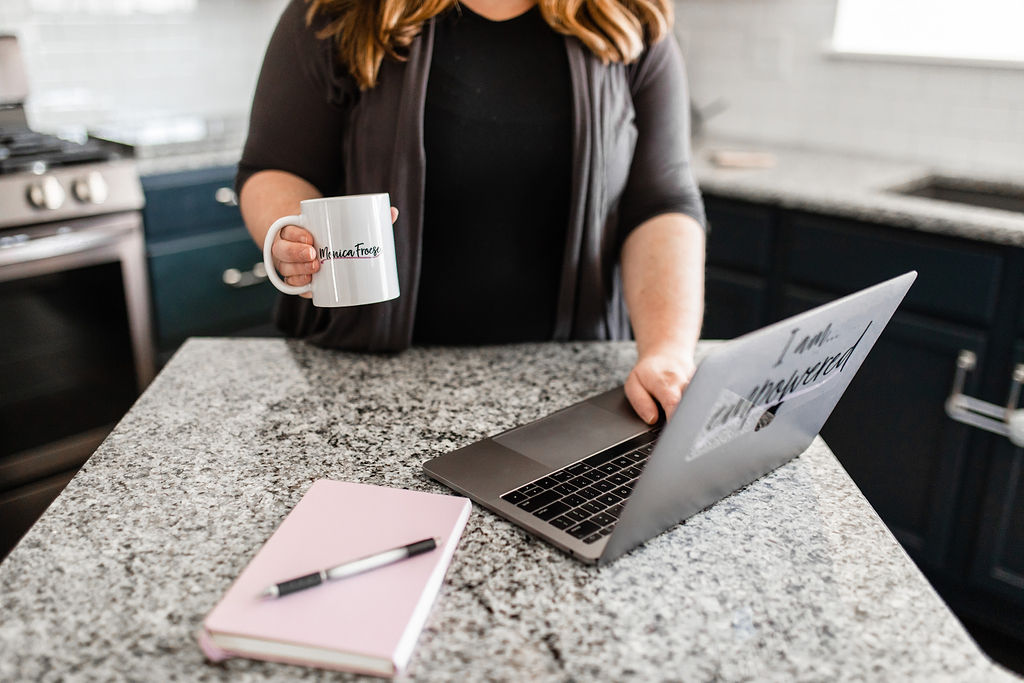 My Second Big Mistake
And here is where I made my next big mistake… I hired another full-time employee.
The idea was that she would help untangle me from the day-to-day so I could go back to being the company visionary and come up with what our big pivot would be.
What ended up happening was she was the one working on the future while I was stuck executing on our active revenue.
No one can come in and be the dreamer for your business. That's YOUR job as the CEO.
My expenses simply got higher again and I was slowly slipping back into burning the candle at both ends. I was executing on launches to feed the expense beast I had created and never able to give the future even a moment's thought.
On paper, we were profitable. In fact, I was still making the same salary and taking home the same bottom line profit as when I hired Hayley. It wasn't bad but it also still was not scalable.
Making the Big Pivot in My Business and Creating a New Mission
Over the summer, I gradually started to feel a shift within myself.
I acknowledged that I was no longer happy in my business. I was no longer excited to show up to work every morning.
If you know me, you'd know I LOVE TO WORK. Since the day I started this business, I would practically skip into my office each morning.
I started to think that if I don't love it anymore, what is the point? I'd rather close up shop than continue to feel burned out and not in love with what I'm doing.
However, my motto in life is I don't do failure.
My feelings of quitting were quickly forgotten and out came my trusty post-it notes.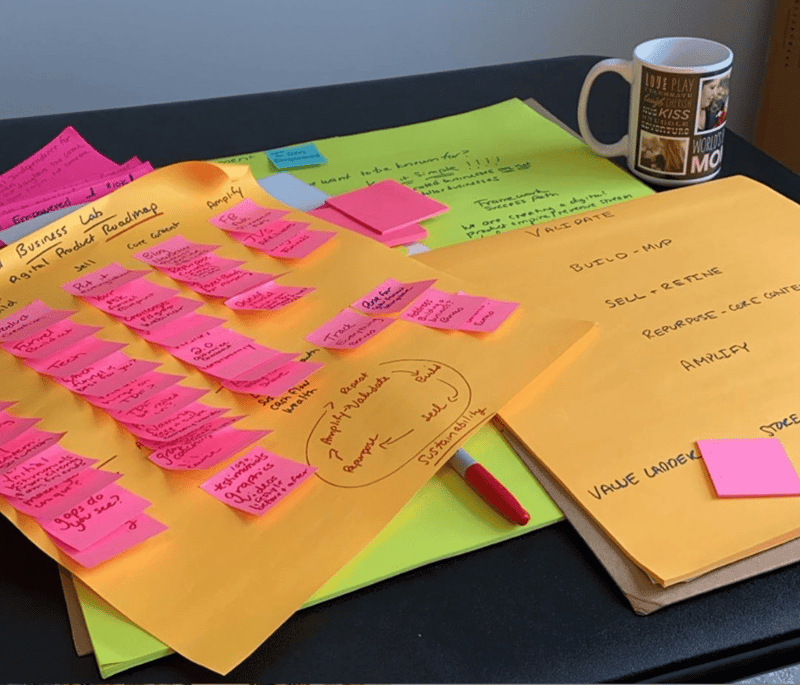 It was time to dream about the business I really wanted.
That started by going back to the original intent of why I started this business to begin with.
To help moms achieve freedom on their own terms. THIS is the purpose of Redefining Mom.
I had to ask myself, how does what I'm currently doing IMPACT more women? Is it really the catalyst for bringing about the change I wanted to see in the world?
Through this process, I came up with a new mission:
I want to help 1,000 women make $100,000 through selling their knowledge and skills via digital products. This would result in $100 MILLION dollars in the hands of women and ultimately leads to my vision of empowering women to create financial freedom through six-figure digital product businesses.
Digital products are my real love and what I believe to be the best way to grow and scale your online business.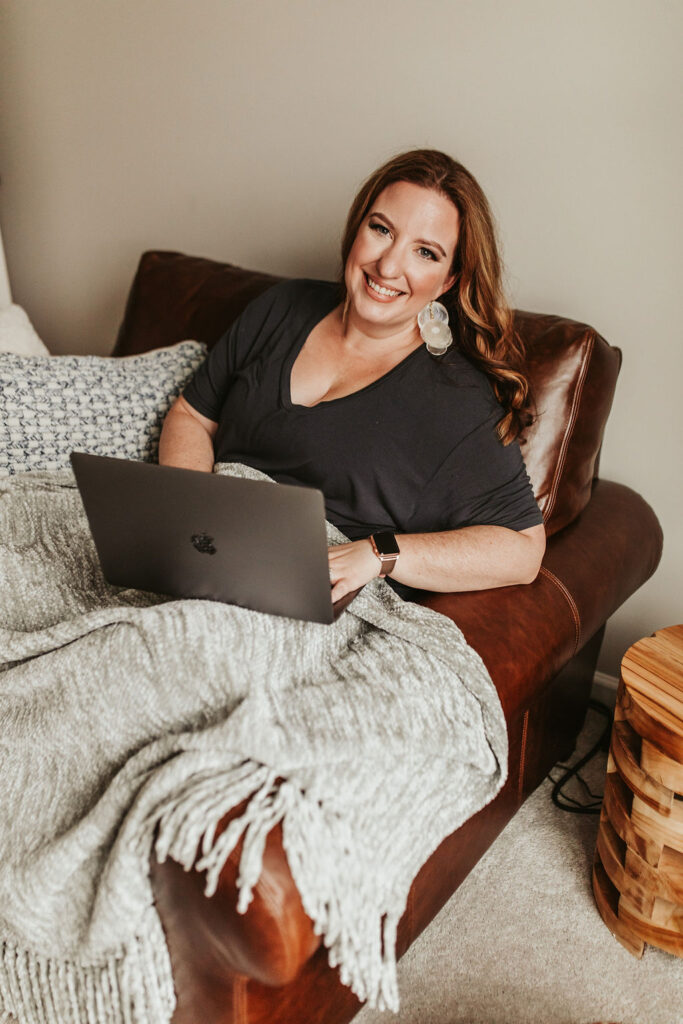 Doing Hard Things to Push Forward in Business
I needed to come up with a way to execute this idea that produces recurring revenue for my business, family, and employees.
No one ever said change is easy.
In fact, I think change takes a lot of courage. I do believe that real change occurs when we push outside of our comfort zones and it feels uncomfortable.
The first thing I had to do was let my second full-time employee go to alleviate some of the stress on our expenses.
It was the single hardest thing I've had to do in my business to date. It sucked. It sucked really bad. But also, I showed myself I can do hard things.
It propelled me to keep moving forward through the limiting beliefs and imposter syndrome that were almost debilitating my ability to work in August and early September.
Now, I have a plan. I have a plan I am excited about and a plan that is going to propel the business into its first million-dollar year!
Phase One included…
Launching MonicaFroese.com with our new mission which will house our upcoming new product suite and podcast
Launching MonicaFroeseShop.com on Shopify which not only gives our customers a better shopping experience, it also allows us to retire about 30 sales pages… hello, streamlining!
Phase Two dropped on Wednesday, October 7th…
Introducing the Empowered Business Box!
The Empowered Business Box is the first of three new products we are developing.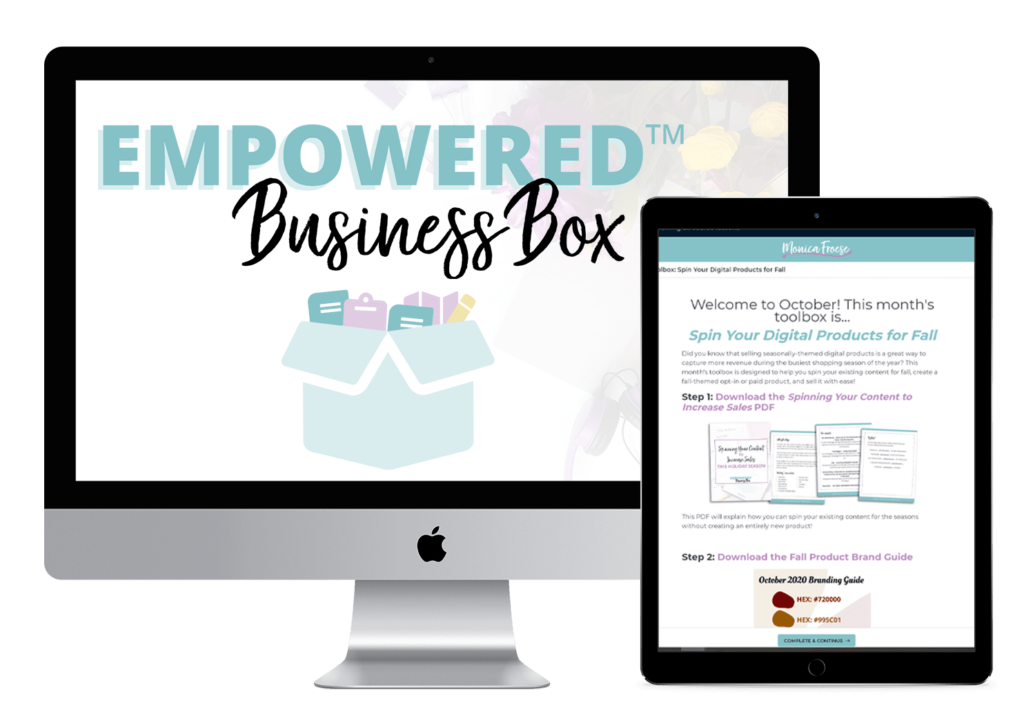 It's a digital product template membership, something that my community (YOU!) has been asking me to do for a VERY long time!
This new membership your one-stop shop for launching and scaling profitable digital products using proven tools that CONVERT, delivered to you every month!
LEARN MORE ABOUT THE EMPOWERED BUSINESS BOX
I truly believe this membership is life-changing and when paired with phase three (which we hope to announce in November 2020) is going to EMPOWER SO MANY WOMEN to show up with their knowledge and CRUSH their first six-figure digital product.
As a big THANK YOU for being a member of our community and for your ongoing support, I wanted to give you something special.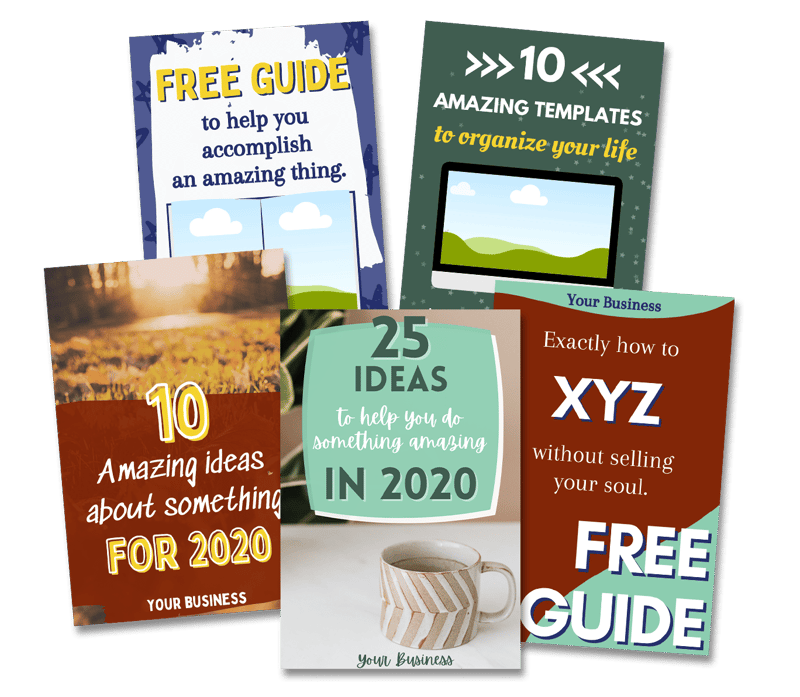 GRAB 5 FREE PIN TEMPLATES FOR CANVA (YES, 100% FREE!)
If you've read this far, I cannot even tell you how much I appreciate you.
It's never too late to make a big change. You CAN do hard things. You CAN build something you love that also supports your family and changes the world around you.
Cheers!
Monica